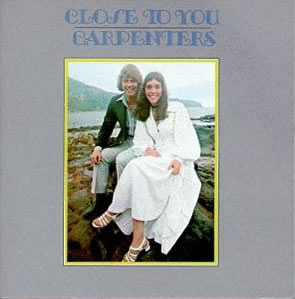 Nothing like Karen Carpenter's sweet, sad voice to simultaneously soothe and send me into a sense of melancholy.

She's an icon.

Other than my dog, her death is the only one I know by heart:

February 4, 1983.

It was my second year of university and she died at the point when my own eating struggles peaked.

As a kid, I used to stare at the cover of my dad's "Close to You" album, imagining the dress she'd wear when we married.

"We've Only Just Begun" was our song.
For so many reasons, not meant to be.
The Carpenters' song "Solitaire" hits me this morning as I write in my favorite café in town.

For the second time this week, a fortysomething woman appears, ordering a muffin and coffee and then sitting at a four-top by herself.

She wears a summer dress, fashionable earrings and necklace.

For a moment, I wonder who she's meeting.

Obviously, the person is late.

But then she takes out a deck of cards and begins Round 1 of solitaire.

It's both brazen and sad.

The rest of the coffee soloists are like me, busily surfing or writing on laptops.

I've seen newspaper readers and tourists studying maps.

It is true, I have also seen people contentedly working through crossword puzzles and Sudoku, equally individualized tasks, but in my experience, a solo game of cards is reserved for home or airport delays.
She doesn't cower as I pass her, midgame.

There is a settled aura, if not a confident one.

My first reaction each time is shock, but pity is unwarranted.

In a sense, I admire her.

I'm going out for breakfast and I will not get crumbs in the car.

I am alone and that's okay.

Now shuffle.

I could learn from her, but do I really want to?
She continues to sit and play.

No one else will join her.

I tune out this scene and let Karen sing me another song, one with a reserved sense of hope:

"For All We Know".
I do have a deck of cards at home.

Somewhere.

I don't want to find it.

Not now, at least.

Not ready for that game.