I suppose I boycotted chicken establishments twenty-seven years ago.

KFC, Popeye's, Chick-fil-A,...it doesn't matter.

I have never wavered since deciding to become a vegetarian.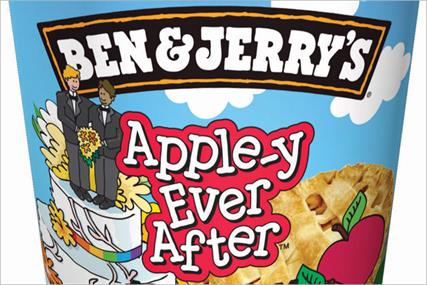 Chickens, however, have become political pawns.

The outcry isn't over how they are raised.

Instead, a chicken chain is the latest battleground for gay marriage.

Who'da thunk? (And wouldn't "Church's Chicken" have seemed the more likely proselytizer?)
Corporations have been making increasing forays into social politics.

Indeed, many have come out as gay friendly.

Sometimes it is a basic employment decision.

If the company is big enough and extends benefits to same sex partners, it is a newsmaker.

Some go further, participating in Pride celebrations and sponsoring other GLBT endeavors.

I have always applauded when corporations take a political stand—a human rights stand, if you will.

When they take the right stand (er, LEFT stand), of course.
It should come as no surprise that a corporate head should have a different opinion than me.

Chick-fil-A is a Georgia-based company, founded by a devout Southern Baptist.

The business is not open for business on Sundays.

Its express corporate purpose is, in part,
"To glorify God by being a faithful steward of all that is entrusted to us."

(If chickens could talk.)
I am not shocked that company President and COO Dan Cathy recently publicly stated he supports "traditional family" and warned that "
we are inviting God's judgment on our nation when we shake our fist at Him and say, 'We know better than you as to what constitutes a marriage.

I pray God's mercy on our generation that has such a prideful, arrogant attitude to think that we have the audacity to define what marriage is about."
Ah, yes, let the chicken wars begin.

In the comfort of an enlightened Canada, however, I thought I would watch from the sidelines, shaking my head at the Biblical wrath and quietly lauding the mayors, activists and average LGBT members who speak out and change their chicken sandwich habits.
But then I logged into Facebook this morning and things changed.

It got personal.

One friend from Texas had posted something about long lines at Chick-fil-A and ultimately going to Wendy's instead.

Long lines at Chick-fil-A?!

Well, maybe in Texas, I thought.

I'd read that the company's consumer approval rating had dropped dramatically.

But why would my friend even go to that restaurant?!

Her sister is a lesbian.

Corporate values or chicken cravings trumped real family values.
A gay friend in Boise posted something about a Kiss-in to counter Chick-fil-A Appreciation Day.

Both actions predictable.

I smiled as I envisioned same sex couples passionately French kissing.

I imagined the response:

loss of appetite, loud prayers, references to Hell and "hating the sin, loving the sinners."
And then I saw my sister-in-law's post.

"
Chick-fil-A for supper before church tonight. Only 25 minutes in line plus 30 minutes to get food, and such a spirit of joy and happiness with the beyond max occupancy crowd! Chick-fil-A has long been a favorite of mine, so only too happy to support them again today!"

She later added another comment:

"

Just saw our family on the news tonight--standing in line outside Chick-fil-A!!!

"

And then my 19-year-old niece:

"Whoa seriously? We were on the news?"
My chest tightened, my hands shook.

The pride, the excitement,...I was repulsed.

Yep, this is personal.

In the pre-Facebook days, I would be blissfully ignorant.

I could say I long for the smiley face happiness of the '70s, but there were no gay rights then.
Of course, I should not be surprised by the posting.

My brother and sister-in-law are evangelical Southern Baptists.

Their children have been home schooled.

My brother spends his vacations building Baptist churches in the South.

Because there aren't enough.

My sister-in-law refused to let my niece and nephew read my children's novel when it was published because I misused God's name.

(Can't recall specifically, but I think there is a spot in the book where one of the characters says, "Oh, my god.")

This is the family that sent me the video "How to Be Saved" as a Christmas present one year.

(To be fair, my Catholic sister got the same "gift.")

My niece's Facebook entries are usually biblical quotes.

I could go on and on and on.
My immediate thought was to "unfriend" my sister-in-law.

Ha!

Take that!

Then I thought of posting a comment.

"So disappointed.

Seems corporate allegiance trumps actual family."

I passed on both options.

Next idea?

Send my brother an email.

Yes, he had been there, too, likely in the driver's seat.

Gotta get me some holy chicken.
And then I thought of my mother.

She's the one who tries to keep the family together.

She's the one with the chronic sleep problems, the constant worrier.

I will not have an impact on my brother or his family.

We never talk on the phone.

I sent him a three-sentence Happy Birthday email last month, with the last sentiment phrased as a question, inviting a reply.

Nothing.

If it so happens that we both plan to go to the family cottage in summer, I make sure my stay does not coincide with his.

Last time our vacations overlapped, I didn't like waking to see an apparel line of Jesus t-shirts every morning.

(Seriously.)

I see him once a decade, at most.

When my parents celebrated their 50th wedding anniversary two years ago, my sister-in-law noted it was the first time in twenty-one years we'd all been together.

And we're a small family!
Full disclosure here:

My brother and his family are the only relatives that do not officially know I am gay.

I haven't told them and I am certain no one else has.

I wanted to maintain occasional contact with my niece and nephew, thinking they may become more enlightened later in life, if they ever stray from Baptist influence.

(It's looking less likely as my niece just finished her first year at a Baptist university.)

Otherwise, I think the rest of the family thinks, "Why bother?"
And now a game of chicken leaves me questioning everything.

If I wanted to act solely for myself, I would comment on the Facebook entry, unfriend AND email my brother.

So satisfying.

My mother will be the one to suffer.

I have caused her much grief in life as the stubborn, wilful middle child, the one my father tiptoes around.

I have already written my brother off as much as possible without the family drama that comes from making it official.
The hurt I feel this morning surprises.

My gut says nothing good will come in passing on the hurt to someone else.

Maybe it is time for me to tune out the self-righteousness and take the higher ground.