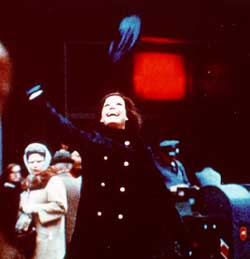 I felt so comfortable in Mary's 'hood. Still, I had another location to explore. The most iconic scene accompanying the "Love Is All Around" theme is the end of the opening credits. Mary spins amongst pedestrians on a busy street and tosses her hat in the air. Naturally, I had to re-enact that. It would be my way to show I was going to make it, too. Just like Mary. (Never mind that she got fired in the series finale.)
If I'd only had a vague inkling of one day following Mary Richards to Minneapolis as I watched original episodes on Saturday nights in the '70s, the notion stuck with me. After I moved to Los Angeles, I confided in my dear friend Robert (whom I'd meet on Saturday nights in West Hollywood only after I'd watched the latest episode of "The Golden Girls") that my one true love was Mary Richards. He neither frowned nor flinched. He nodded and then smiled. "Yep. That's so you." And after five years of struggling to make it in L.A., I piled all I could in my Honda Accord and drove north to Vancouver. On the day I left, Robert stopped by and dropped off a gift, a black beret. His only words: "You're gonna make it after all." My mission was obvious. Once I got to Vancouver, I was to find a busy intersection and throw my cap in the air, a sign of exhilaration, comfort and triumph.
But I didn't do that. Not right away. I wanted to be true to Mary. I wanted to segue from that shaky Season One lyric, "You might just make it" to the more assured line in subsequent seasons, "You're gonna make it." It took a couple of years, but I finally felt ready to toss my hat. I searched through the closet of my fourth apartment since the move back to Canada, but the beret was nowhere to be found. No worries, I thought. I never throw anything away. It would turn up. But it never did.
In the weeks leading up to my road trip to Minneapolis, I began hat shopping. I decided to splurge and pick something that would be my own fashion statement. The problem was that I have never liked hats. They are perfectly fine on other people, but I don't look good in them. Hair has always been my best asset and covering that up only made all my facial flaws more glaring. Besides, hats make my scalp itchy. And I was reluctant to try one on after spending the entire school year futilely combating a lice epidemic at my school.
Still, I looked. I'd only have to wear the hat for thirty seconds before thrusting it skyward and hoping I wouldn't make a "Rhoda" fumble. The frugal teachings of my father suddenly made an eighty-dollar expense for a half minute's wear seem foolish. Instead I dug out a Gap baseball cap from the bottom of a drawer in my closet. Never worn. Denim blue with my first initial front and center. (A little like Mary's "M" on her apartment wall.) I packed it in my suitcase; it would have to do.
With only two days left of my week-long stay in Minneapolis, I boarded a bus for downtown, cap in hand. I got on the bus, hat in hand. At 7

th

and Hennepin, I disembarked and then walked the block to the corner where Macy's is. Much at the intersection was yellow-taped off as construction workers went about doing something. What exactly, I don't know. They were not my focus.

As I approached, my only thought was, Please don't let the Mary statue be blocked off. Please don't let construction come between Mary and me.
I stood at the Macy's corner, 7

th

and Nicollet, the corner I'd read online as being the site of the statue of Mary Richards and her hat. I spun around, perhaps like Mary did, only I was trying to spot the statue instead of doing some sort of exhilarating twirl. A Latino man in a neon yellow shirt standing on a Segway asked, "Can I help you find something?" He seemed to be an Information designate.
"I'm looking for the Mary Tyler Moore statue."
"It's gone," he said. "It used to be right here." He point at a framed square on the pavement. "They took it out last weekend."
"Nooo!" There was no hiding my disappointment. I stood there clutching my lettered baseball cap, too stunned to move. How could the City of Minneapolis remove it? For how long? Permanently?!
There had been no tourists lurking outside Mary's house—not on any of my visits there. And now the statue was gone. Had Minneapolitans finally turned their backs on America's sweetheart, Mary Richards? Did "The Mary Tyler Moore" show mean nothing anymore? Is this why I could no longer find it in syndication? Who the hell decided that "Hogan's Heroes" and "The Andy Griffith Show" were still relevant, but Mary wasn't? The statue had to be here. I slowly 360ed once more. Alas, my search turned up nothing.
The man sensed by confusion. My head looked down again at the framed square on the pavement as if the statue would suddenly reappear. If I only I could have twitched my nose like Samantha on "Bewitched" or crossed my arms and blinked like Barbara Eden on "I Dream of Jeannie". I was a pathetic curiosity. Mr. Bearer of Bad News did his best to show empathy. "A guy showed up as they were removing it. He came from Baltimore. They stopped so he could have his picture taken."
"I came from Vancouver," I said. And the man, for whom Mary Richards meant absolutely nothing, stayed by my side. He could see the devastation. He gave me a map of downtown with a number to call. "Maybe they can give you some information," he said.
I couldn't think clearly. Pedestrians passed, coming and going from all directions. I knew this man would take a picture of me throwing my cap in the air. All I had to do was ask. This was the same corner. The statue wasn't part of the show. It didn't matter. But somehow it did. It represented Mary Richards' place in pop culture and her ongoing association with this city in Minnesota despite the fact the show was filmed in L.A.
I didn't ask for a photo. I felt silly. Like Linus waiting for The Great Pumpkin, I was the only one who believed. I walked away, still stunned, not knowing what to do. I turned back and went into Macy's. A shabby Macy's it seemed, but perhaps the warm glow I'd gained visiting this city was gone, everything now tarnished. I wandered on the second floor where the menswear was and drifted across skybridge after skybridge into other buildings. There was nothing to do. I had hoped there would be a shopping experience calling to me, helping soothe my sense of loss.
F
or a while, I stood in the building across the street and looked up at Basil's Restaurant, another site in the opening credits. I snapped a picture and told myself to go up. Get a coffee or something. But I'd lost interest. The City had lost interest in Mary Richards. Why should I care about Basil's? Finally I found the elevator in the Marquette Hotel and pressed the third floor button for the restaurant. I stood where the host or maitre-d would assume his place but no one was there. I settled for a selfie and took the elevator down again.
I made it back to the corner of 7

th

and Nicollet. The Information guy was gone. I felt stupid holding my cap. Was it always this crumpled? People continued to stream by. I tried to muster up the will to try the hat toss. Without the statue near me, there was nothing I could point to in order to explain the odd behavior of repeatedly tossing a baseball cap in trying to capture a bizarre selfie. I lost any courage to ask someone to take my picture. I thought of just throwing the cap without a photo. It suddenly seemed complicated. I'd lost the will. I walked back toward Hennepin, ready to catch the next bus.
I felt empty and I wondered, What would Mary do? A silly question. A fictional personality, one that meant nothing anymore to her adopted city. Instead, I went with the old standby of What would I, James, do?
I got off the bus a block early and ordered a double scoop of ice cream—chocolate mint and raspberry chocolate chip—at Sebastian Joe's, a signature spot in the city since the mid-80s. It still had its status. For now, at least.