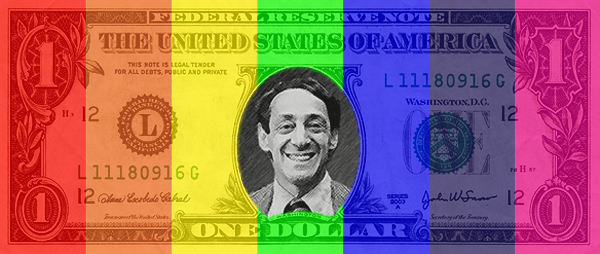 In 1991, when California Governor Pete Wilson vetoed AB 101, legislation that would have prevented California employers from discriminating based on sexual orientation, I joined the evening protests. Masses of gays, lesbians and their supporters marched up Santa Monica Boulevard in Beverly Hills, West Hollywood and Hollywood. The marches lasted a few days—I stopped after that mob mentality led to a confrontation with a driver and a few protesters almost got run over—but the political activism continued. I'd grown up feeling like a sinner and a miscreant. I'd witnessed the most powerful government in the world move at a snail's pace to address AIDS, many of its actions embarrassing response to public fear. Gay men, the group most largely impacted seemingly didn't matter. This was the dawn of empowerment. We mattered and we would stick together.
I got my ear pierced. I slapped a pink triangle on the back of my car. I ate really bad food at gay and gay-friendly restaurants. At the next monthly meeting for volunteers who buddied with Persons with AIDS, another group member asked each of us to take out all our paper money so he could stamp it with pink triangles. The intention was to remind the public, businesses in particular, that gay dollars mattered. This became a ritual before we got into sharing about the emotional turmoil and practical needs of our AIDS buddies.
When I moved to Vancouver, I recall a thin little phone book you could pick up at various gay establishments. It was the LGBT business directory. Basically, if you're gay, then shop gay, support gay. Help your own community.
Three times, my ex and I worked with gay realtors to assist in selling a condo and buying a house. Unfortunately, the level of service was wanting. Flakey, in fact. For subsequent real estate transactions, we switched to a fashionable Romanian straight woman and an Italian woman whose image was plastered on bus benches throughout the city. These women were more aggressive, more responsive and never batted an eyelash as my high-maintenance ex muddied each deal with peculiar demands. They got the job done.
But I didn't recycle the LGBT Yellow Pages. When we needed to completely renovate our century-old house, we contacted business listed within. We got quotes from three gay designers/contractors. On each occasion, there was much delay in getting the proposals together. I had the feeling these guys took our business for granted. They're gay, I'm gay. It's a lock. (It didn't help that two of the three were overly flirty with my exotically handsome ex. There was a blur between professionalism and their need for personal validation…or something more.) We went with other people, hygienically challenged tradesmen recommended by friends and family. Despite the best intentions, I failed to support to support The Team.
Still, I wasn't ready to abandon the gay cause. I knew I wanted a gay doctor. One straight general practitioner in Santa Monica ended a standard checkup by saying, "I never want to see you again." It was during the AIDS crisis and I had responded to a question by revealing I was gay. He may very well have been homophobic, but I suspect my behavior during the examination that was just as off-putting. I am a frantic patient. Even a stethoscope makes me flinch and gets me to starting rambling from nervousness. I needed a doctor who would get me…or at least tolerate me. A gay doctor seemed like a logical starting point.
At the first gym I joined upon moving to Vancouver, there was a hunky doctor that many of my friends went to as their family doctor. He was renowned for his antics on the party scene and his regular use of party drugs and steroids. I bucked at going to Doc Popular. Why would I consult this guy regarding the best decisions for my personal health?
I did stay on the gay doctor stream. I chose another gay doctor, a man whom I was told took his time with patients and might be able to handle my medically-triggered anxiety. For the most part, it has proved to be a good decision and I have stuck with him for nineteen years, even when I had to travel by ferry to see him.
Confession: I would say my doctor is far more attractive than Doc Pop. I have crushed on him all this time, but it is his calm nature and his amusement over my quirks that keep me going to him. The fact he is easy on the eyes is a bonus.
I'm just doing my part to keep gay dollars in gay pockets.