I have always been a big fan of pop music and I recall watching shows like "American Bandstand" and "The Midnight Special" in the '70s. In 1980, "Solid Gold" premiered in syndication and I often watched Dionne Warwick host the show on Saturday nights, a testament to my wild high school days.
Thankfully, I had more of a life when I headed off to university, but I did stumble upon the show a time or two and I sometimes stuck with it until a commercial break. What made me linger?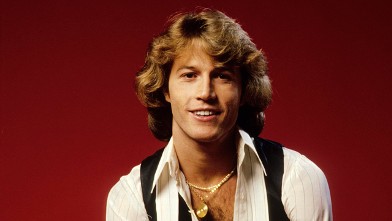 It wasn't so much the videos, the occasional "live" lip-synched performance or new host Marilyn McCoo. It wasn't even the show's featured distinction, the Solid Gold Dancers, which Wikipedia describes as wearing "revealing costumes" and performing "

sometimes borderline risqué dances."

No, I completely missed any purported titillation. Instead, I found myself rekindling my crush with co-host Andy Gibb. By 1981, Gibb had strayed from being a radio and teen magazine darling. We didn't know of his downward spiral at the time. On the television screen, he still looked fine and I would have pulled out clumps of Victoria Principal's Jhirmack'd hair in order to be his everything. I'd been smitten since his first hit and those photos of his frosted blond locks.
Sadly, Gibb only lasted for one season with the show. Just when I was ready to shake the show, along came another pop pinup as co-host: Rex Smith. Who were the "Solid Gold" producers and how did they unlock my grade school Crush Chest?
Smith was even hotter than Gibb. How did he NOT become a superstar?! I loved his first single, "You Take My Breath Away" and the photo jacket for the 45 proved to be a purchase bonus. That hair! Those chiseled cheekbones!

I don't think I ever got so pathetic as to watch the TV movie from which the song came, but that may have been solely due to the times.

You had to either watch something when it aired or you missed it.

No VCR, no TV movie section at a video store.

(A check online shows that the movie never went to video or DVD.

Shocking.

Where is the uproar, America?)
My Rex crush lasted for most of his fifteen minutes of fame.

Yes, I even bought his only other charting single, his remake of "Everlasting Love", a duet with Rachel Sweet.

(I shouldn't admit it, but I would sing her part, after imagining booting her out of the recording studio.

Nothing personal, Sweetie. All I can say in my defense is, when you're a closeted queer, your sexual maturity is stunted at, oh, let's say the sixth grade level.)

Despite the Rex appeal, my "Solid Gold" drop-bys no longer made it past Phil Collins doing his best Diana Ross impression. I'd gaze at Rex's hair and his clothes (his body, that is),then turn off the TV to get ready for some crazy college shenanigans, beginning with a pitcher of strawberry daiquiris and a basket of fried zucchini and followed by a 2 a.m. sugar rush at a pancake house packed with octogenarian Shriners. Oh, you think I'm exaggerating, but my college years were more risqué than anything those Solid Gold Dancers could shimmy up. Yep, the Rex fix had waned.

You can only have your breath taken away for so long.