-->
Okay, so Kim Cattrall and Sarah Jessica Parker aren't as chummy as Samantha and Carrie. (Here's the link to an article on the subject, in case you've had better things to do.) I can see Jack McFarland flipping out on "Will & Grace" but the rest of us should take a long, slow sip from Karen Walker's martini glass and get over it.
I loved "Sex and the City". Like many gays, I inserted myself into the show, engaging in frequent banter on whether I was Carrie or Miranda or Samantha or Charlotte. Maybe I have a conflict of interest here as I always went back and forth from Miranda to Charlotte. No one would ever take me for Samantha and Carrie always seemed to be overshadowed by each of them. Who wants to identify with that?!
The entertainment business works hard to create a make-believe world, not only regarding the storylines of characters on TV shows but also as to the happenings on set. Doesn't every actor say, "I know it's going to sound cliché, but we really are like a family"? We're supposed to believe that on these sets and locations, strong, warm bonds form all the time.
I'm glad social media wasn't around way back when I connected with "The Mary Tyler Moore Show" and grew to love the characters and, in turn, the actors. I want to forever believe that that group hug at the end of the series represented pure love between characters and among the cast (even if Rhoda/Valerie and Phyllis/Cloris had already left the nest). Same with "The Bob Newhart Show". Bob and Emily forever, along with Howard, Jerry and Carol popping up for regular smiles and yuk-yuks.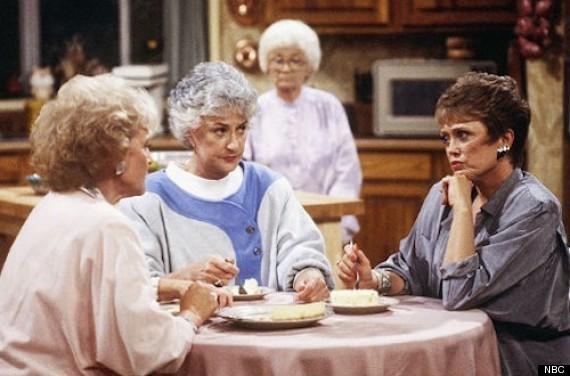 Let "Friends" always be friends. May "The Golden Girls" always commune and console over cheesecake. And I can go on imagining that those "Designing Women" of seasons one and two continue to enjoy their southern charm while tuning out any of the on-set drama involving Delta Burke. Again, we mercifully only got reports of that through weekly tabloids.
On Twitter, I'm seeing #TeamKim and #TeamSJP emerge. Mostly, it seems people are looking for excuses to tweet the latest sassy GIFs.
I didn't read of any tensions between Cattrall and Parker until the fall of 2017 when Kim Cattrall's disinterest in a third "Sex and the City" movie put the kibosh on it going forward. Whatever the reason, I was glad. I saw the first and found it entirely disappointing. Couldn't stomach the second, which might further tarnish the shine of such an outstanding series. The only unfortunate part of reading that there wouldn't be another movie was the public muck that came out.
It's with that in such recent memory that this newest uproar arises. Kim's brother was missing and she'd taken to social media, desperate to find him. That got attention. When it turned out he'd died, the sad news got even more internet and new media attention. Celebrities are now scrutinized for their responses or their "failure" to respond. Given what public spat in the fall, what was Sarah Jessica Parker to do? The norm now is to tweet love and condolences, often with generic wording. Enough to make a public acknowledgment. It's the same as the sympathy cards that get passed around in our own lunchrooms. The standard sentiment is a "Thinking of you" and a signature. For celebs, silence—or perceived silence, even if condolences are sent privately—would be new fuel because, even in this #MeToo era, everyone loves a good cat fight. Let women be empowered but let the sideshows continue to satisfy the gawkers.
I'm not on either team. (Perhaps stirring up wounds from childhood when I was last to be picked, let me be #TeamNoTeam.) But why would a TV environment be any more collegial and more familial than any other workplace? The reason "The Office" was such a success is that it was relatable. A work setting brings together people who are, well, not so relatable to one another. People get on each other's nerves. There are falling-outs. Some quit but don't we all know of people who stick with a job because of the pay or out of fear of what else is/isn't out there? Don't we know people who can ruin a Friday night happy hour with an unrelenting diatribe on all their co-workers? Whether Sarah Jessica should have tweeted and whether Kim should have responded, can we just move on?
In my mind, Carrie and Samantha will always be friends. And if all that was just good acting, then so be it.