I'm worried. I seem to be losing my woefulness. I don't even know the last time I said or typed
woefulness.
I was once hardwired in the stuff.
Don't you remember sharing coming out stories? Some weren't as good as others. If Kevin said, "My parents told me they always knew. We had a group hug and then my dad took me to a Backstreet Boys concert," I was happy for Kev. Happy but a bit nauseous. And not just because that "Everybody (Backstreet's Back)" song is both lame and obnoxious. His story wasn't a story at all. It was just another example of Kev always getting what he wanted: an associate position in a top L.A. law firm; his daily fill at Sweet Lady Jane without the telltale love handles; even hunky Adrian, the step instructor from the gym whose always-to-capacity classes were more about the visuals than the L-step/grapevine combo.
I may have wanted Kevin's life, but his stories were always too much of a good thing. True coming out required drama. Jayson's story was far more compelling. Shunned by family, he was basically run out of Riverside and struggled to pay his rent in L.A. through early work as a bad drag queen in dives I'd never heard of.
Benny's mother scheduled an intervention with their priest.
Jose transferred high schools.
We grew up in the No Pain, No Gain era. We came out against the backdrop of the AIDS crisis. If the 70s rhetoric about homosexuality being lumped with bestiality, pedophilia and sexual perversion served as my Introduction to Being Gay, the 80s added fear and societal redemption. My kind deserved to die. God's wrath and all that.
When you're shunned, reviled and repressed, you yearn to hear other stories of struggle. You commiserate, you empathize. Eventually, you muster up a few drabs of empowerment. More Twisted Sister declaring "We're Not Gonna Take It" than BSB pleading to "Quit Playing Games".
I felt the fear and angst of the gay teen in ABC's "Consenting Adult". I cried along to NBC's "groundbreaking" AIDS movie, "An Early Frost". (Both productions aired in 1985, the year my own coming out to my best friend was met with an abrupt distancing.) I cheered the gay kiss on "thirtysomething", all the while getting worked up over the accompanying advertiser boycott. By the time I'd seen and videotaped an airing of "Parting Glances" on some nascent cable network, I'd developed a solid understanding that love and death went hand-in-hand. "Longtime Companion", "Philadelphia" and "Angels in America" only confirmed this. I wept frequently for gay characters. I balled and fumed repeatedly as I read Randy Shilts' sobering accounts of AIDS and assassination in "And the Band Played on" and "The Mayor of Castro Street." I bought a copy of the AIDS quilt documentary "Common Threads" and it became my Lenten thorn stick which I pricked myself with whenever I felt complacent about the devastation of People Like Me. Though "The Wedding Banquet", "The Birdcage" and "Will & Grace" brought comic reprieve, we gays were largely portrayed as a tragic lot when we weren't otherwise case as filthy sinners.
Somehow I made it through. Well, not exactly "somehow". I spent many a Thursday night-Friday night-Saturday night going ogle-free in West Hollywood bars. Maybe being undesirable saved my life. Still, I saw what was happening around me, if only a degree or two removed. Most of my friends were relatively ogle-free, too, but we had friends of friends who got the KS lesions and put their trust in devastating AZT treatments.
It used to be that a gay- and/or AIDS-themed production would cost me half a box of Kleenex as I extended my mourning for real and fictional characters hours, even days, after a viewing. It was a sure thing. A good cry, like listening to an Adele album or Sarah McLachlan's "I Will Remember You" or recalling beloved moments with my dearly departed schnauzers. But lately the tear ducts aren't as reliable. I'm barely even moved.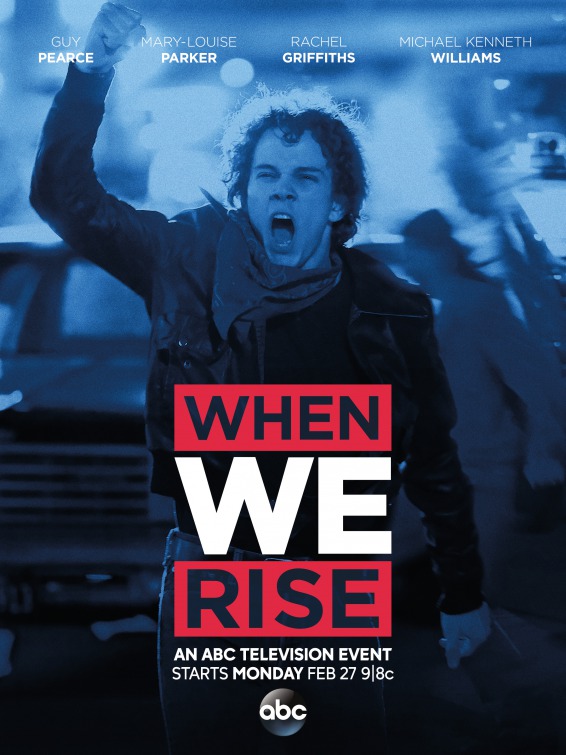 I watched ABC's miniseries "When We Rise". At least, I tried. For three out of four nights, I sat down, tuned in and found myself distracted. While I started by leaving laundry tasks to commercial breaks, I got to multi-tasking as the characters quibbled on the screen about protest plans. Each night, I prematurely clicked off the Power button, promising myself that I'd watch what I missed online, including all of the third instalment. But I haven't felt the need. Further viewing feels like homework rather than something I genuinely want to do. The production bored me. I felt nothing. Had I not had a cold, the tissue box would have gotten no attention at all.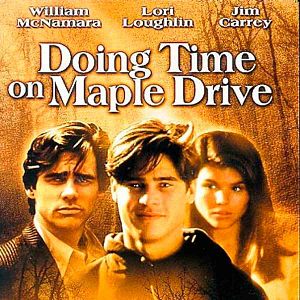 Last night, my boyfriend and I watched "Doing Time on Maple Drive" a 1992 TV movie he'd rented on DVD through Netflix. Only one passing reference to AIDS, but it was all about the angst of coming out in a family where appearing happy meant more than being happy. I'd lived and breathed this kind of dysfunction. I expected my own younger trauma to come flooding back.
Yes! A good cry. I've still got it.
Except I didn't. After a key scene of family coldness, I begged my boyfriend to press pause, not so I could regain composure, but so we could wander to the kitchen to mix his homemade marionberry jam with vanilla bean and chocolate brownie gelatos. And I was still plenty full from dinner! (As an aside, it proved to be a delectable distraction, especially the vanilla-berry creation.)
Egad. What has happened to me? How have I developed an immunity to anguished gay/AIDS-themed fare? If I, as a been-there, sorta done-that gay man am indifferent, how will straight people and younger gays be entertained? How will they be informed and enlightened? Will they tune out? (It seems, in the case of "When We Rise", they did just that.) Will they view our past with a mere shrug? Have we achieved too much too soon? How will we rise again if an erratic new government compels us?
Maybe I'm just going through a phase. I'm in love. I'm happier than I've been in, well, ever. Maybe I've got the internal melancholy button on mute. For a while. Maybe I deserve a period of boundless joy. I lived much of my life with self-hate, fueled further by the scorn of others. I've feared living, thinking it would bring early death. I've been consumed by angst. I've kept filters on my identity for so long that I can't seem to shake them. My boyfriend remains a secret to my coworkers and my family. The present joy, however guarded, is most welcome.
But let me not forget. Let us not forget.