Go ahead
, my inner voice says. Try again.

Hard to know if that's an entreaty or a taunt. But it's been a full week since the last dud of a date. Time to make the rounds.

I log in on Plenty of Fish first. No messages. Two views. No. And no. So I'll have to dig up something myself. I could try my saved search criteria: between 41 and 55, within 50 miles of Vancouver. I know what that will turn up. Same thumbnails, some of whom I messaged in yesteryear, some I even gambled on and met for coffee with typical slot machine results: cherry, cherry, lemon. Makes a tasty summer beverage but lousy date. Most of the profiles I've passed over countless times. There's a point when you know it's pointless.

I dare to glance at the New Users link. Has it always been there? I suppose I've unconsciously trained myself to look past it, like the pop-up ads. I learned years ago to avoid the newbies. These guys are testing the waters. Just looking. Maybe still bruised from a fresh breakup, maybe not even officially broken up. Even the new guys who are fully ready to dive into the Fish pool are off-limits. They have too many options. They are fresh bait. All of the seasoned Fish want a taste. The newbies are primed to get the most messages they'll ever get. They are inclined to keep looking ahead at the next message and the next. No chance of getting reeled in. Maybe it doesn't reflect a high opinion of myself, but I need a guy who is starting to smell fishy in that rotting sort of way. Dejected. Disillusioned. Expectations drastically lowered. My kind of guy.

Go ahead, my inner voice goads. And so I click New Users. Show me some fresh Fish.
Halfway through the second page, I am staring at overly familiar faces. "New" is such a relative term. The gay Vancouver dating pool is stagnant, a thick layer of scum at the surface.
I scroll up again. One new face warrants a second look, even a click to read the full profile. He's 43. Photos look good—none of those distant shots where you can barely see the face. He's got a long list of the kinds of things he's looking for in a guy.
Okay, I'm not a golfer, unless there are tiny windmills on the course. But a score of 14 out of 15 ain't bad. Above par. Or is it below par? Again, not a golfer. I type a message—carefree, with a bit of wit. And right after pressing Send, Plenty of Fish flashes what feels like a No Confidence vote: "Message Sent! We strongly recommend that you look at the following users as well." These sites aren't interested in matching people up successfully. It's all about clicking and maximizing page views. A business, not a service. I shall not be lured. I log off.
I log in at OkCupid next. I've committed to doing the rounds so I need to at least check in. Four visitors since yesterday. New York City, Oslo, Memphis…apparently a layer of scum forming on gay pools is an international phenomenon. There is one visitor from Vancouver. I recognize the user name if not the photo. The thumbnail photo depicts his face sticking out from the center of what looks like a giant rhubarb leaf. Maybe a great pic for a Facebook post but the most flattering shot on a dating site. (Or what if it is?!) This guy has messaged me before on Plenty of Fish and on OkCupid. I'm still not interested, but I make a mental note to pick up some rhubarb at Whole Foods. It's in season and tasty when cooked with a generous amount of sugar.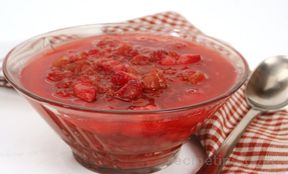 I'm not up for another search. One message sent and now I'm spent. (Besides, I've got that rhubarb craving.) Let a few days pass. Give it another go on the weekend if The Golfer isn't looking for a caddy. No "A for effort" today. C- maybe. It's a bump above failing. Maybe next week I'll think about moving to Memphis. Or Norway.