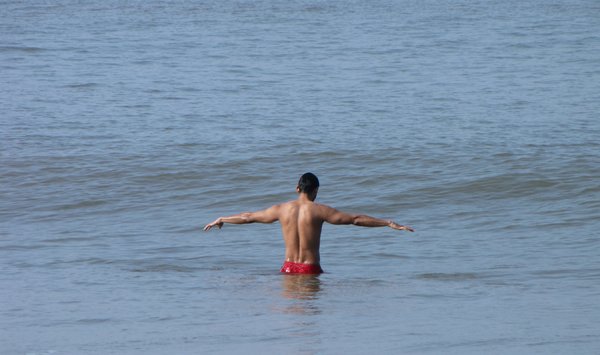 April marks a year since I've moved from my home and into a teensy, still empty condo in Downtown Vancouver. Based on my experiences following past moves, it takes about two years to feel settled and to establish social connections. I'm beyond the point of getting my feet wet; I suppose I'm waist-deep.
It is true that I lived in Vancouver for ten years before moving to the Land of Nowhere, but there was another ten year gap before I moved back. As well, more than seven of my years during Round 1 Vancouver were spent with my ex and friendships faded as time with him took over.
When I began Round 2, I naively thought old friendships would blossom anew. I was, after all, excited to reconnect. We'd had good times. Now I was free and in closer proximity to pick up where we left off.
But things don't work that way. I'm not that special. The world doesn't wait. I'm reminded of this every day as I see the condo building across the street from me and I know that one of my closest friends from the '90s lives there with his partner. I see them, always together, about once every six weeks as I head off to the gym or return from a run and they are out walking their two bulldogs. The first exchange lasted about five minutes. Now we're down to "Hello."
So, yes, this is starting all over again. This would have been clearer and less ego-crushing had I moved somewhere completely new. Winnipeg. But having driven through that city several times and never stopping longer than to grab a coffee, I have no yearning to settle in the place that's not so lovingly referred to as Winterpeg by many Canadians. There were a few places I'd have gladly have moved to. Los Angeles. Seattle. Portland. And, after a visit last summer, maybe Minneapolis. It comes as a surprise after living in the U.S. for sixteen years and all the while yearning to return to Canada that I realize I fit in better in the States. Yes, I know it is the land of Trump and I hear about people swearing they'll move to Canada if Hillary or The Donald gets elected. I'm used to partisan politics and all that is broken and yet I still want to move there. Surely that's the immigration test, isn't it? Maybe we can do an exchange. But seriously, the application I sent six years ago, sponsored by my American parents, remains somewhere in what has to be the mother of all backlogs. I've let that American dream go.
All that said, Vancouver is home. It almost sounds like it is so by default. Sorry about that, dear city. It's breathtakingly beautiful here. In fact, after jogging along the Thames in March, I couldn't help but feel pride and renewed appreciation for how gorgeous Vancouver's seawall is. I love to jog it, bike it, walk it. I'm geeky about mass transit and Vancouver's is decent, even if it comes nowhere near the efficiency of London's system and even though there was the overwhelming smell of urine where I sat at the back of the bus. It's an urban thing. The arts scene here is weak. I see flashes of hope though. Nothing to rival New York or Toronto, not even Minneapolis, but I can find a few exhibits and performances to attend over the course of a year. It's something.
I'm realizing that the few friends I have reconnected with are routine-oriented. Maybe people get that way as they get older. Unfortunately, I'm terrible about planning ahead—I see it as being spontaneous—and so, by the time I get around to thinking about the weekend, it's, well, Saturday afternoon. When I texted a friend about getting together, she suggested the last Sunday in May.
In the past, I've made friends through school and work but I'm finally done with academia and my work remains back in that rural area. Teachers don't socialize with the principal. The go-tos of the past went away.
I signed up for the gay volleyball league. Unfortunately, I dislocated my pinky finger on the third night and it's still not right. More physio and a prognosis that I'll never play volleyball again. Sorry 'bout that, Team Canada. Carry on that bid in Rio without me.
I've attended the gay running group three or four times but I haven't made inroads and I wind up running alone. I'll give it another go. Someday. The fact is that I'm an extreme introvert, very reserved, painfully shy. When a social group initially feels closed, I pass the time retying my shoelaces, petting a dog or just slipping away. Yes, indeed, this is hard.
I can do better. I moved back to Vancouver for more than solo jogs on the seawall. I still have another year to finally get back on course. Let me start trying to make something of next weekend tonight. Or I can at least firm things up for that Sunday in May. It's a (re)start.