One of the things I love about Los Angeles is the food. I realize that a recent post talked about my food issues, but things are easier here. I can eat out and not feel like I must do penance with an extra 500 sit-ups at the gym.
Just as I discovered last year, vegan is still the "in" thing. In another city, at least half these restaurants would have FOR LEASE signs plastered on their windows after a twelve-month experiment. But Los Angelinos are different. (You knew that.) They don't seem to cringe over words like kale, quinoa and miso. In fact, they embrace them. As I enjoy my Seasonal Harvest salad at Veggie Grill—vegetarian fast food—, I peruse the menu where the healthy ingredients are adorned with enticing adjectives—infused quinoa, agave-roasted walnuts, shaved beets. (Okay, the descriptors could use revision. I don't like the image of the cook in the back lathering the beets up with lotion and taking a Gillette blade to them. Savage and unappetizing.)
There is even a line at Veggie Grill. The lunch crowd really is a crowd. It's nothing like the out-the-door queue I find myself in every time I go to one of the multiple locations of Tender Greens, but this is still quite a spectacle, with so many non-vegetarians feasting on veggie fast food. My friend Rich used to say you can spot the vegetarian—women, at least. "They have bad hair. Always." That was many years ago as we ate at one of L.A.'s veteran vegetarian restaurants, Real Food Daily. At the time, I had an urge to defend veg women. I looked around, indignant, intent on presenting evidence to the contrary. Bad hair all around. Slam. But now as I look around, I can't win a round of Spot the Vegetarian. Not if bad hair is the clue. Everyone has decent hair. Maybe it has something to do with kale. I don't think we did much with it back then.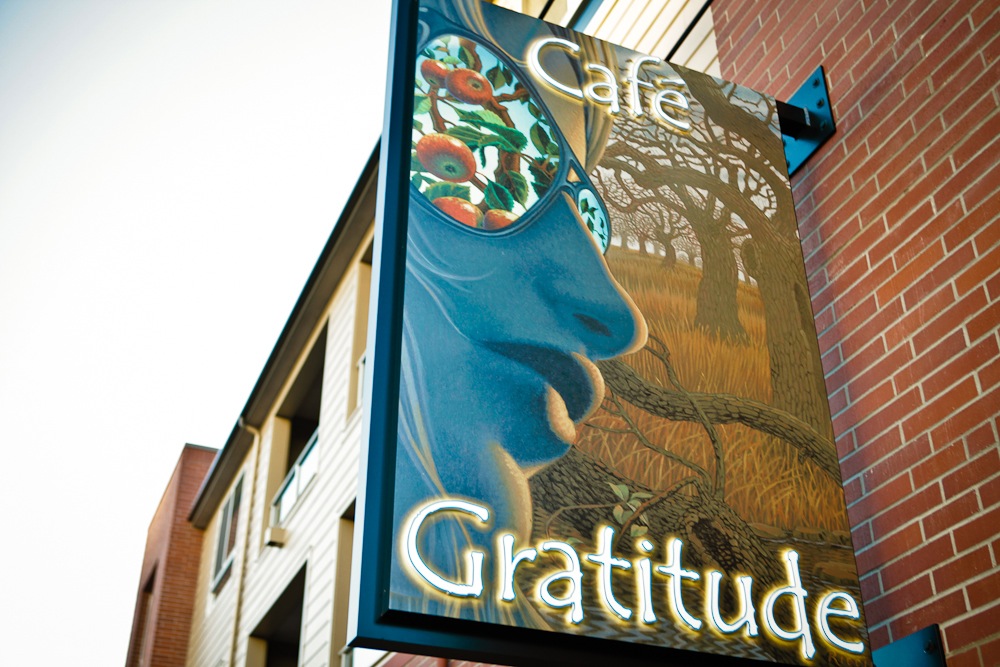 As someone who typically scans a menu for the one and only meal choice—veggie primavera, again?!—it is refreshing to have so many options. There are past favorites like RFD and Sun Café (Sweet Kale Shake!) and then there are the names of other restaurants that omnivores I meet freely spout off with specific menu choice recommendations—Raw, Native Foods and Café Gratitude, the buzzy vegan destination in Venice (and multiple locations), co-owned by vegan folk-rock singer Jason Mraz. There are so many choices that I can pass on the non-dairy ice cream shop in Santa Monica and the vegan bakery in a part of Venice where parking is next to impossible. I don't need to get desperate. Heck, I even have choices in "regular" restaurants. Waiters are familiar with questions about rennet. They don't just squint their eyes and make up an answer. I can fully enjoy the dining experience.
I realize my eating issues are extremely complex. But I wonder if living year-round in a place where vegetarian/vegan habits are so normalized might steer me, to borrow a favorite Indigo Girls song, Closer to Fine.

I can ponder that as I get back in line and order a side of the orange-glazed Crispy Cauliflower to go.