When I decided on a gaycation this summer, I immediately thought of my own version of How Stella Got Her Groove Back. Clearly, when immersed in a gay epicenter, there's going to be some action.
First, the run. Having enjoyed the Frontrunners session along the beach in Santa Monica, I decided to try the Monday night West Hollywood run. I figured it would be another way to meet gay men, in the healthiest of ways. And besides, I was curious about what might make a decent route, given all the traffic signals and the busy streets. Stops and starts on a run break my rhythm and make be want to trade the exercise for leisurely window shopping along a short segment of the route. This is why I only brought my driver's license on the run and left the wallet at home. I cart the driver's license for identification to address the morbid possibility that a drunk driver might plow me over by running the curb or, more likely, I might have a klutzy moment and stumble into traffic. This is just one reason I don't feel the passion that other joggers profess. Some people risk life and limb jumping from airplanes, but I figure a simple run is enough for me.
While I began in a small pack of four, one fellow turned back two miles into the run and the other two pulled away. No matter. By then, I was fully invested in the run. The speedsters ahead of me proved taunting, like a pair of mechanical bunnies at the racetrack, with me being the lame greyhound, nearly catching them when lights turned red, only to see them pull away again upon a flash of green.
The course took me down Santa Monica Boulevard through Beverly Hills before cutting over to Sunset to pass such sights as the restroom where George Michael got arrested and the club where River Phoenix died. Washington,D.C. has the Lincoln Memorial and the White House; L.A. has its infamous toilets and bars.
Next, the skip. Okay, not so much a skip, but a postponement. Despite Hoover's intensive tail wagging, the dog walk had to wait. (He got to piddle on the tiny tree struggling to grow just outside the bungalow.)
Instead, I quickly showered and headed to dinner at Tender Greens on Santa Monica Boulevard in the heart of West Hollywood. Being a tad late, I altered the social dynamics, transforming dinner for two to dinner for three. Trey, the run leader, was taken, but judging for the icy coolness of tablemate Rocky's greeting, he was taken aback that I would be taking some of Taken's time. Oh, Rocky. I've been there. So much wasted energy, as clearly confirmed by Taken gushing about his partner and repeatedly responding to his boyfriend's text messages over the course of dinner.
Finally, the hop. Bar hopping. Well, not so much a series of hops as a single pit stop. We strolled over to Revolver, a club I'd always presumed was named after its revolving door, but on second thought, might reference a misidentified gun in one's pocket. Ah, what do I know? All I know is I've always been a sucker for spinning doors. How can one not find momentary amusement by the carousel version of an entrance. (Yes, there are so many reasons why I am still single!)
Being back in a WeHo gay bar, I could not help but let my eyes wander as Taken and Rocky talked. So much to see! Lovely brick walls, big windows, an uncluttered bar counter. Yes, once again, my timing was all off. Seems that, even in West Hollywood, gay bars are sleepy establishments at 9 p.m. on a Monday. Why should it matter? Clearly, Taken didn't care. In an hour, he'd rejoin his partner who was winding down an evening shift. And Rocky was just happy to take up more of Taken's time as I perused bar fixtures. Nice lighting, decent stools.
Could I have lingered when my companions left at ten? No doubt, the club would draw a crowd closer to 11 when nocturnal animals begin to prowl. But I'd had my fill. I draw the line at two club sodas. Too much lime makes my gums feel rough.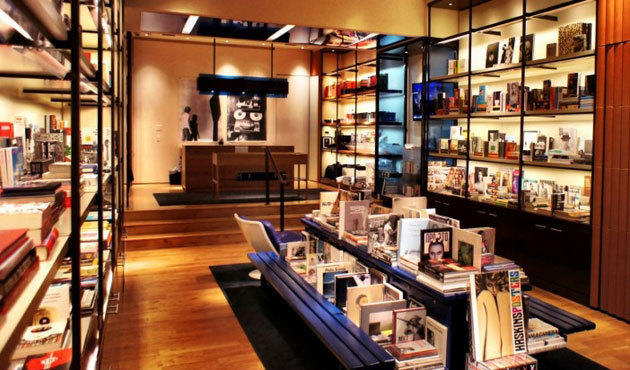 After a run, skip and hop, it's good to walk it out. Hoover and I fit in both the delayed walkie and the window shopping as we strolled along the trendy shops of Melrose Place. Marc Jacobs! Carolina Herrera! Oscar de la Renta! Once again, I left the wallet behind, instead stuffing my pockets with pooper scooper bags.
Such an action-filled night! This is what people envision as a gaycation, isn't it?
Maybe I should give that Stella book a closer read.