It's come to this. I can't wait to go back to sleep. Not because of fatigue. Not because I'm feeling ill. And, definitely not because this blog is suddenly sponsored by Sealy mattresses. I dreamed in snippets again last night—vivid, usually joyous moments.
This has been happening frequently in recent weeks. Yesterday morning, as my alarm sounded, my dearly departed dog was at my side, tail wagging, body contorting with excitement to embark on an anticipated first walk of the day. Real or not, it was a precious moment, a chance to see the little guy again.
Last night's montage featured my remaining schnauzer running freely through busy streets where alert drivers cleared a path in traffic for him to roam. There was also a troubling scene with my ex trying to be romantic. In the dream, it sort of worked, but I didn't have time to puzzle over this because I came to my senses and re-enacted that irksome endless running sequence from "Forrest Gump". (All this running—my dog, then me; seems I am still trying to escape my rural environment.)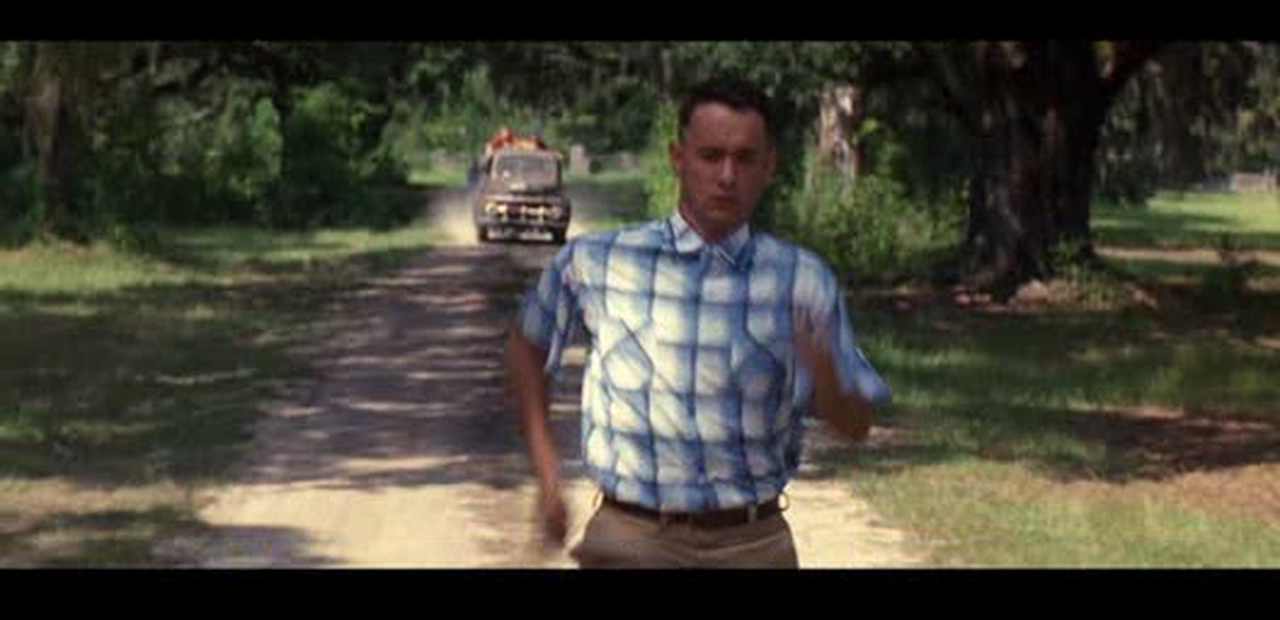 True to my inner shallowness, my mega-marathon did not lead me to a chance encounter with political leaders of the past nor did it inspire onlookers. (I'm just glad no one laughed; my gait has always been awkward). Instead, I wound up in a monstrous high fashion mall. Mysteriously, I did not browse or buy a thing. (Proof that dreams are often utterly implausible.) The running continued as I frantically tried to exit the shopping haven.
I wound up in a crowded gay jazz club. A soulful woman with a big voice belted out an up-tempo number and I stopped running. I was right where I needed to be. It perplexed me that the gay bar was an annex to a mall, particularly since I had the sense I had jogged into an urban center in Red State territory. (Perhaps I was back in Texas. It has been on my mind as another Thanksgiving approaches when my family will get together without me. It's tradition. I cannot get the time off work.) The audience included a sizable smattering of heteros, all welcoming and taking in the musical genius of the singer's vocal stylings, supported by a skilled band and a trio of sound masters flicking buttons and turning knobs to make every note pop.
With the mass of people jammed in the joint, I couldn't make out the singer. I craned my head back and forth, expecting to see a gorgeous black woman in a body-hugging, amply sequined purple dress from The Supremes era. But then came the big reveal. While not as dramatic as something out of "The Crying Game", the woman was indeed a plain man with a five-o'clock shadow, dressed in a sensible button-down shirt and a drab pleated denim skirt. The image disappointed in so many ways, but I went with the crowd, totally accepting him and cheering maniacally as the band segued into a sultry slow number.
And then my dream fast forwarded five or ten minutes. I was seated with the singer and the band and a few select gay fans at a long table at the back of the bar. One of the production engineers told me about their next gigs and their upcoming album. As music is so important in my life, I savored this up close and personal moment.
Even as a restrained groupie, I failed to fully understand something else developing by my side. A very cute gay man sat to my left. Naturally, I assumed he was taking in the conversation in a similar manner, feeling privileged to be invited to the inner circle of a group on the cusp of superstardom.
But then in the final moments it dawned on me that he was a friend of the band. He wasn't hanging on every word they said. He was taking in my every move. Smitten. With me! How's that for a twist?!
And just as in every romantic comedy I've overdosed on, I turned to him and caught a quick glimpse before life got in the way. A sighting, a chance encounter, a stronger connection unrealized...or, as in the movies, frustratingly delayed. The moment was not halted by a closing elevator door, a swarming crowd, or the end of a train ride in France.
My dearly remaining dog had tap danced across the wood floor of the bedroom, anxious to get me up for his own morning walk. The real thing, an off-leash amble with no traffic to navigate. It is always a magical moment as I laugh at his gleeful goose honks and he bounces from bush to bush, christening everything anew. But I trudged along and eyed the colorful sunrise over the snow-sprinkled mountains, feeling stunned. Today's greeting yanked me away from my dream guy.
As I reflect, I've changed my mind. Forget sleep. The reality is I can never return to good dreams. (Why do nightmares recur while the glorious moments are so fleeting?) I have a vague recollection that the man of my dream was shorter than average with dark hair and dark eyes, but a single image remains clear from the moment just before my dog brought me back to reality. I can see the sleeve of a red plaid shirt rolled up, exposing a pale forearm, dotted with a few freckles and a sparse matting of dark hair. (Red plaid? Really? Must go with it.) The arm is an effortless reach away. The image brings me hope. Maybe there is a real man out there and our fateful encounter is near. It doesn't hurt to believe. At the very least, it's a call to go shopping. Something good is bound to come from that.
I have (part of) a man in mind and I am left with a clue to his identity—my very own fairy tale. For the prince, it was Cinderella's glass slipper. For me, it's a guy's right forearm.
Some guys are all about the pecs. Others go for biceps, butts or the front packaging. I always thought I was a face and hair guy but apparently that's all wrong. No wonder I'm still single. All this time, I should have been casting my gaze on the underappreciated forearm.
Surely this changes everything.