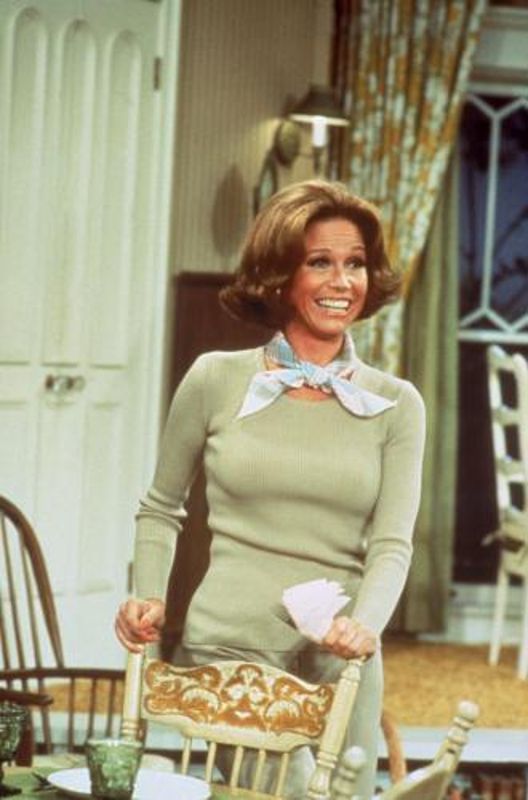 I don't know if being an avid fan of "The Mary Tyler Moore Show" is a gay thing.
Based on the commercials during last night's airing, I'd say it's a geriatric thing.
Diabetes management.
AARP.
Incontinence.
I've always been mature for my age.
Gay or not, I've always had an inexplicable affinity for "MTM".

I can watch old episodes and not laugh once, yet I still thoroughly enjoy the experience.
"Mary Tyler Moore" was more than comedy.

The show consisted of lovably flawed characters whom Mary Richards had to awkwardly, endearingly finesse her way around:

buffoonish, egotistical Ted, tough guy/softie Lou, snarky Murray (kept in check by acerbic Sue Ann), batty, tender Georgette, hard-done-by Rhoda and grand dreamer Phyllis (with ever-sage daughter Bess).

The actors always brought their A-game, making each character seem entirely real.
While I've had many Rhoda moments (and perhaps even more Brenda connections from the "Rhoda" spinoff), I have identified most with Mary.

While the theme song—more on that in a minute—included the line "Love is all around", it always felt that "Loopiness is all around" in Mary Richards' fictional life and in my real life.
I remember one episode in which Lou recalled Mary's first entrance into the newsroom.

Apparently she said "Excuse me" to a desk she bumped into.

I've done that many a time.

(Garbage cans also receive my profuse apologies.

I run into them more than you can imagine.

Indeed, they are the source of the perpetual leg bruising.
Mary exuded 70s fashion, with long-legged pant suits flared at the bottom, curve-accentuating sweaters and colorful scarves.

Her hair was always thick, lustrous and flawless.

Despite mild indignities, she strutted with confidence.

I try, at least.
Perhaps nothing sticks with me more than the theme song, ending oh so cautiously in Season 1 with "You might just make it after all" and dreamily evolving to "You're gonna make it after all."

Yes, I should be so lucky.

When I am down, all it takes is a quick YouTube search of the tune to give me a needed pick me up.

In fact, when I moved from L.A. to Vancouver, a friend who knows me too well bought me a beret as a going away gift.

The instruction:

toss it high—like Mary—when you truly make it.
Eighteen years later, I still have the beret and I'm still waiting for my Mary moment.

I still believe it will come.