My boyfriend and I hung out at a free clinic Tuesday. It's my version of a romantic night out. Yeah, I know nothing about romance. We'd decided to get HIV tests together. My idea, my tradition.
For various reasons, the test isn't as ominous as it once was. A positive result doesn't bring on immediate notions of a death sentence. HIV is treatable. Thank god. The testing isn't even as invasive. It's a prick test to round up a few drops rather than a blood-sucking needle. I'm afraid of needles. Really, all things medical. Generally speaking, I don't view a clinic visit as a good time. I try deep breathing before going, but it always lapses into hyperventilating.
But when I'm in a relationship, it's one of our early dates. I'm good at discussing HIV status with a potential partner. When I was coming out, that was part of foreplay. I've always felt the discussion brings me closer to the other guy.
Look how we can put aside carnal desire—for ten minutes, at least—and have The Talk!
It's part of an adult relationship. It builds trust. It opens the door for ongoing communication about sex. Yeah, I probably talk too much.
Trust is one thing. It's wonderful, in fact. But there are other "facts" that can best be answered by a medical professional. While I got tested a year ago and have no reason to believe I've put myself at risk, there's always that
What if?
I suppose it's a whole set of questions.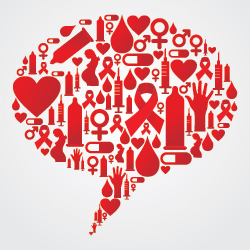 What if the test was a false-negative?
What if they mixed up my test result?
W
hat if I'm that 0.03% guy who becomes
positive from a not-quite medically disproven
cause?
WHAT IF I UNKNOWINGLY EXPOSE MY
BOYFRIEND?
It's the last question that would haunt me. I don't know how the relationship would survive and I don't know how I'd live with myself. Knowledge is indeed power. The HIV test remains the medically responsible course of action.
In the late '80s and early '90s, I got tested annually at least. I'm sure there were times when in was once every six months. Back then, HIV was a fast track to AIDS and to dillydally was considered flirting with death. The first time I ever went with someone to get test was with John, my first love. We went to a clinic in L.A. where they gave anonymous tests and, being as I was in a panicked state about the needle, I went first. John often later delighted in retelling how I reminded him of the Wicked Witch of the West as he was ushered to another testing room. Sticking out in the hall were my two feet, sporting Stan Smith sneakers instead of ruby slippers. I hadn't fainted; they just insisted that I lie on the floor after they stabbed me with the medical implement "until you get your color back." Or at least until I stopped whimpering. (I don't actually have color.)
I got tested again a short time later, not because of any concern, but as a support for my friend Jay who had never been tested, was far more sexually active and whose best friend had recently been diagnosed with AIDS. Jay wasn't terrified of the needle, just the result. So I succumbed to another stabbing—different clinic so as not to risk being turned away ("You again?!). We went back a week later with our anonymous numbers and I sat with a quiet, shaking Jay as they told him he was negative. He cried and thanked me profusely. I think this is when I began my tradition of going for ice cream after anything medical.
I'm in love for the fourth time in my life and this is the fourth partner I've gone together with for testing. At first, the receptionist told us that they don't allow people to get tested together. "We can fill out a card with your result." Date night suddenly sounded even less fun.
I went into the conference room first. It's best that I don't have extra time to think/snivel/beg for a teddy bear. Once inside, I cautioned the nurse as I do every medical professional. "I have a tendency to faint." Often. "And, even when I don't faint, I blather like an idiot. I'm a total wuss."
"It's okay," said the nurse.
They always say that. They never mean it.
At least, not by the time they're done with me.
"I was hoping my boyfriend could be with me to give me support."
And, just like that, they made an exception and let him join me. Got what I wanted. Being a wuss has its benefits. The romance was back on!
To be sure, there was great risk in the testing experience. Not about the results. A year ago, I'd had my first chance to consider dating someone who is HIV+…undetectable. While things never became sexual—again, I bring up the conversation early—I had come to terms with figuring out how to make things work. The real risk was letting my boyfriend see just how wimpy I am when it comes to needles, talk of blood, anything graver than a hangnail.
And, yes, he saw unfiltered wimpy. I couldn't look toward the nurse or whatever the hell they prick you with. There was far too much medical paraphernalia in that direction. Don't ask me what. I truly didn't look. (I once fainted during a hearing exam after glancing at a standard diagram of an ear posted on the wall.) As I signed consent forms before the test, I got sweaty and had to remove a layer. I squirmed and spun in my chair. (Good thing it had wheels.) I talked rapidly. There were a couple of times I had to fold in my forearms and crouch over.
I got pricked. No yelling, no tears. And, miraculously, my boyfriend stayed. Every time I think he's seen me at my worst, something else pops up. Two days later, he still hasn't come up with an excuse to back away and run. This is one hell of a good man.
By the time we were done, I realized I loved him even more, if that's possible. We'd done this as a couple. We'd been at each other's side to be supportive, no matter the result. I'd even borrowed his zip code—Ooh! No letters!—so the nurse could record the area where I "lived". (A
certain border guard
would be most displeased.) Call it a flash forward to what may come.
By the time it was all over, I didn't even need to celebrate with ice cream. The reward of being with my boyfriend was enough.